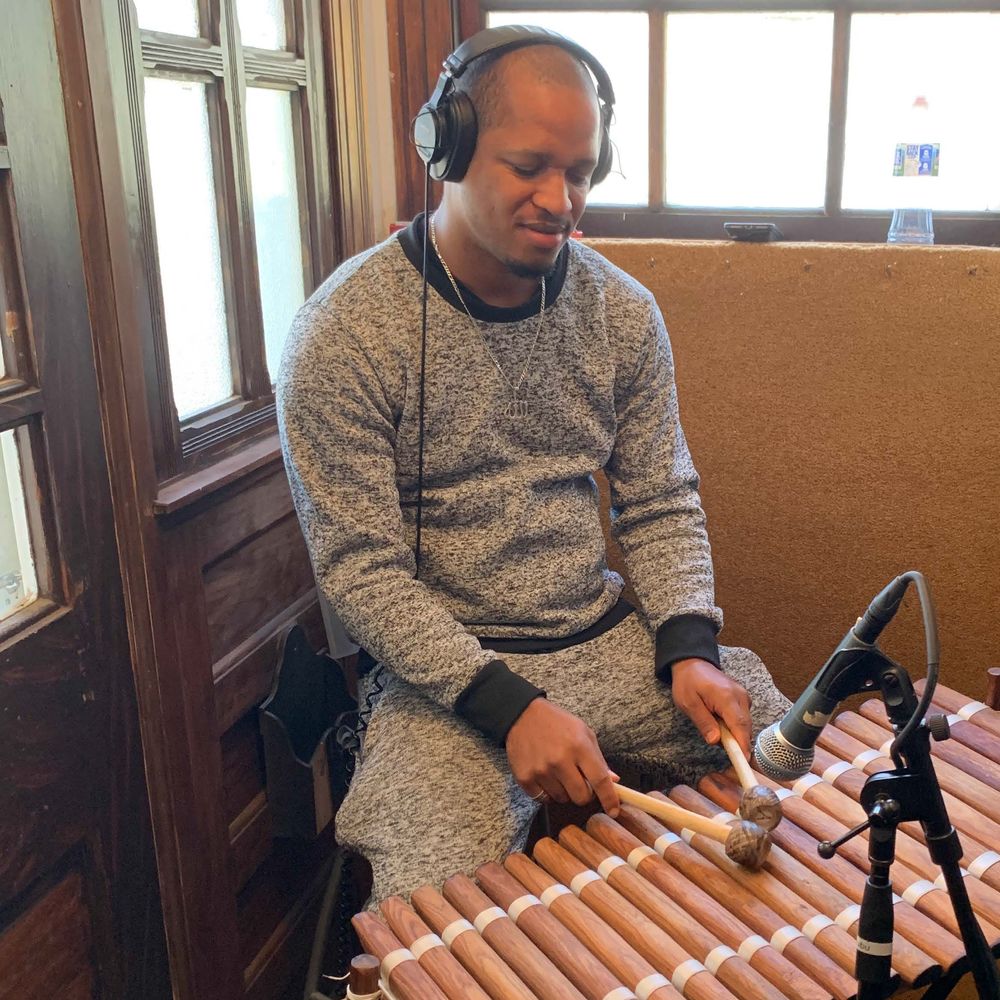 Track 1: "Postal de Bata"
Uasuf Gueye: balafon
For me, just about everything worthwhile in the music of the Americas has roots in West Africa, so it seemed fitting to start Folk Songs, Jazz Journeys there. The album's first track, "Postal de Bata," is a musical postcard I wrote for my wife after a too-short trip to Equatorial Guinea. It was inspired by the Afro-pop ballads of great Senegalese vocalists like Youssou N'Dour and Ismaël Lô, and features a beautiful solo on balafon (West African marimba) by former Strathmore Artist-in-Residence Uasuf Gueye, a son of both DC and Senegal, since his father is from a long lineage of griots (West African bards, or keepers of musical and poetic tradition).
Like many of the musicians on Folk Songs, Jazz Journeys, Uasuf performed as part of the Community Supported Music series I organized at Mediterranean Café. I didn't know him then, but Mount Rainier bluesman and actor Bus Howard had planned a duo show with him, then got a hand injury. So Uasuf brought the vocalist from his regular band and enchanted us with his mix of traditional Mandingo and DC hip hop. He invited me up to play a song with him, I showed him a few chords of "Postal de Bata," and he instantly got it. His balafon brought the song to life in a way I had intuited but never heard before. Suddenly it could tell its whole story. Some weeks later, I went over to his house and we worked out the somewhat more intricate arrangement we would record on the CD, with Tyler Sherman on bass and Keith Butler Jr. on drums. We've since become friends and are developing other projects. On my YouTube channel (don't forget to click on "Subscribe"), you can also hear and see us play a duo version of Duke Ellington's "I Got It Bad (and That Ain't Good)," with Uasuf on djembe. This is a video my friend the cameraman Tom Kaufman put together for the Seven Tones project, a series of interpretations of Duke's compositions by DC musicians and videographers early in the pandemic.
I too have roots of a sort in West Africa, since when I was growing up in rural North Carolina my French mother would tell us about the magical year her family spent in Abidjan (Côte d'Ivoire), then a small town but full of sounds, smells, and tastes for which she has retained a lifelong nostalgia, one she transmitted to my sister and me. Brittany is the mother country for me since I was born there, but, further back, Africa is, as it is on some level for just about all of us.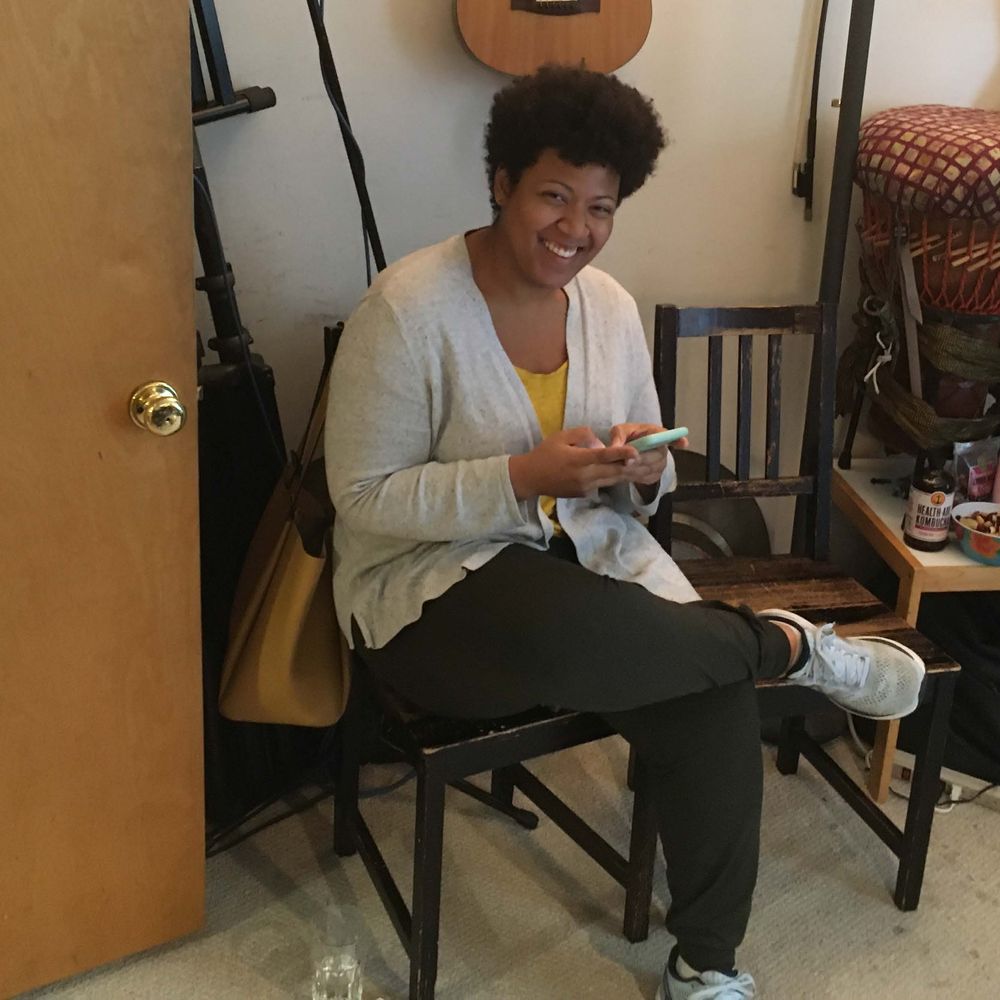 TracK #2: "Wayfaring Stranger"
Maya Rogers: vocals
"Wayfaring Stranger" for me recalls the rural Appalachian community where my dad lived for more than three decades in a cabin he built on top of a mountain, and where my sister and I frequently went to visit him. He always took us to see various neighbors and spend time chatting with them in their parlors. It's a traditional song from that region that speaks to its unique mysticism, and has been covered by about every country singer you can think of, but I would say (with admitted bias) that I'd rather hear Maya Rogers sing it than anyone else in the world. My guitar arrangement (though I play it on nylon rather than a flattop) is a tribute to the beautiful version by Tony Rice, maybe the greatest American acoustic guitarist of the 20th century, who passed away on Christmas Day 2020.
I met Maya and her life partner, bassist Tyler Sherman, while they were living in the Artist Loft apartments in Mount Rainier and finishing work on her first album, The Gathering. If you like what she does on "Wayfaring Stranger," you should definitely check out that record, which features her own compositions. Tyler was also finishing up his master's in the composition program at the Vermont College of Fine Arts (from which the other bassist on Folk Songs, Ethan Foote, has also recently graduated, and where drummer on the record, Keith Butler Jr., is currently enrolled). One of the many blessings of this project was all the gifted composers and arrangers I got to work with. I tried to learn from them and always felt like the flow of ideas was at a high level.
Maya and Tyler, who were married last October, are now living in rural Connecticut, where they are raising their recently born son.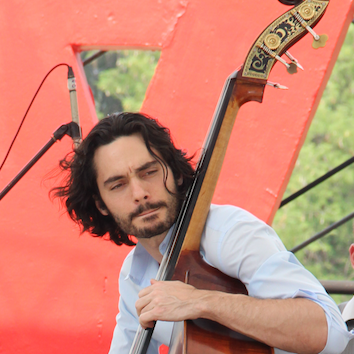 Track #3: "The Kudzu, the Dust, and You"
Ethan Foote: bass
"The Kudzu, the Dust, and You" is a sort of response to "Wayfaring Stranger." It's also a painting of a certain kind of southern landscape that became very familiar to me as a child. Although we frequently went to visit our father in his mountain community in Appalachian Virginia, our French mother raised my sister and me in Piedmont North Carolina, mostly in rural corners of Orange and Durham Counties (the far periphery of the Raleigh/Durham/Chapel Hill Triangle) where kudzu-lined dirt roads were a main means of our getting from one place to another. The kudzu overgrows the trees and everything else, and that and the humidity give the world a submarine feel, with only the occasional gritty dust you breathe in to remind you that you're still on dry land. Drummer Keith Butler Jr., who grew up down I-85/40 a ways in Winston-Salem, captures this perfectly in his playing here.
I wrote this piece hearing in my mind the playing and writing of Scott Sawyer, one of North Carolina's greatest guitarists, my teacher in my beginnings, and a friend and mentor for many years since. Scott blends blues, bop, and true southern grit in a way I can only dream of. Nonetheless, the song is dedicated to him.
There are two featured artists on this track. The first are the cicadas that sound engineer Sven Abow field-recorded from his back porch in Brentwood, Maryland. As we were recording that weekend last September, they were particularly in voice. They reminded me so much of the landscapes I was trying to capture that I asked Sven to have them join us.
Our featured artist on this track is bassist Ethan Foote, who lays down one of his many lovely solos. His contributions to Folk Songs, Jazz Journeys are immeasurable. He plays on 8 of the 11 tracks, providing the foundation, a rock-solid groove, and more great ideas than I can count, particularly on the 10th track, the Breton dance "Laridé," of which more below.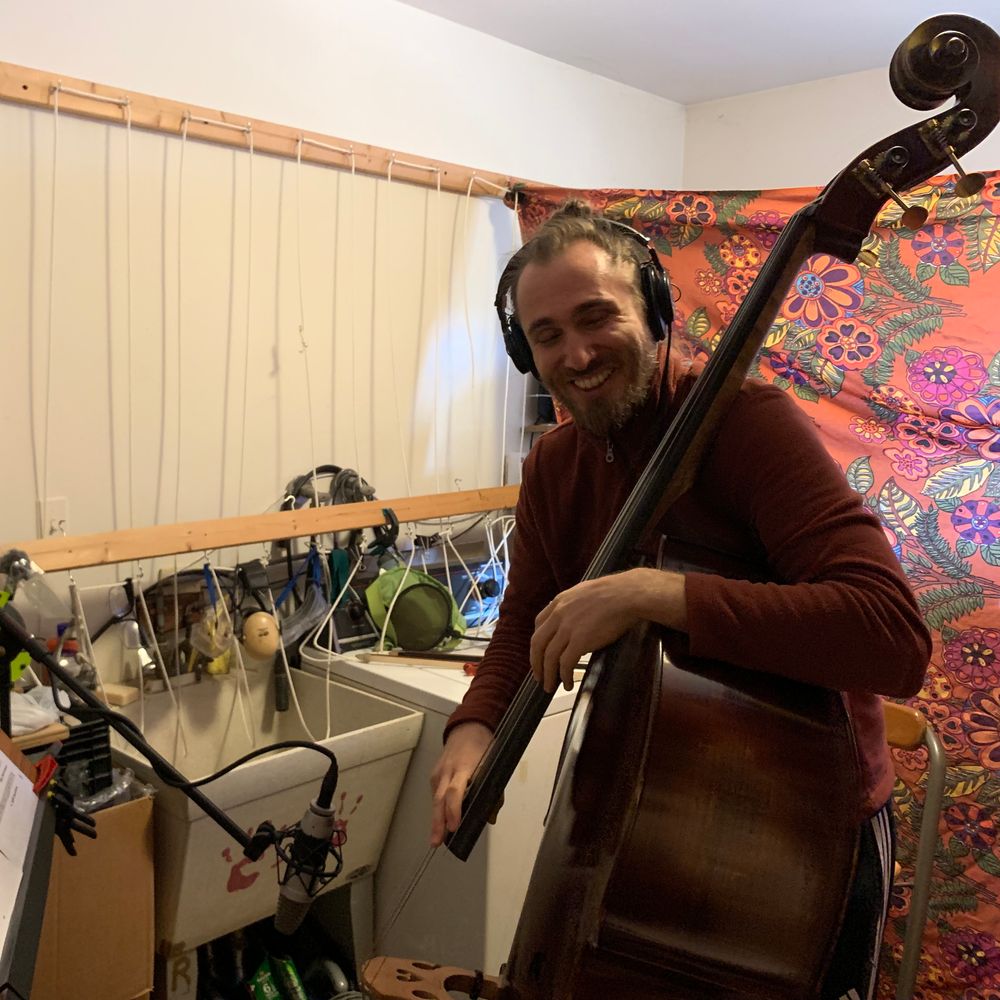 Track #4: "Viceversa"
Tyler Sherman: bass
A couple of Christmases ago, my wife and I were up at her parents' in northern Wisconsin, near the Upper Peninsula of Michigan. At the holidays we usually stay up there for a week, and there's a lot of down time to play in the snow or walk around (or on) the frozen ponds. That year I decided to use this time to compose settings for poems by a couple of my favorite writers. I chose a sonnet by Pablo Neruda and a short poem by the Uruguayan poet, short story writer, and novelist Mario Benedetti (1920-2009). Neither of them usually wrote regularly metrical and rhyming verse, making it a bit trickier to fit them to a musical form. The Neruda sonnet turned into a sort of "art song" bolero. But Benedetti's poem, with its natural spoken rhythms, came out much more naturally, and is probably the closest thing to a pop song I have ever written. After laboring over the Neruda for two days, I wrote the music for "Viceversa" in a few hours. I include the Spanish text below and translate it into English. Although he is one of the most famous modern poets in the Spanish-speaking world, Benedetti is not as well known among English speakers. That's a tragedy, and something I hope to do my small part to help change.
Maya Rogers, who provides the vocal on this track, grew up in southern Michigan, but her father is from Costa Rica, so Spanish was part of her household. The gentleness of her approach is perfect for a song about the youthful experience of love, the experience of feeling oneself carried away and surrendering to that. I asked her to do a vocalese hum/scat at the end and what she came up with was everything I could have expected and more. It's one of my favorite moments on the album. Listen and see what you hear. In that scat, I hear the name of Dambala (a serpent deity associated with the rainbow in religions of West Africa and its diaspora), which reminds me of the title track on her own album, The Gathering, which concludes with a Yoruba prayer.
Our featured musician on this track is Maya's husband, Tyler Sherman. I was introduced to Tyler by local conguero and drummer Jason Walker, who told me I had to meet this killer bass player. I went out and hear him play with Jason's band Hard Swimming Fish and could only agree that the man could definitely lay it down. "Killer," though, only applies in musicians' terms, because Tyler is one of the kindest, most spiritually centered people you could hope to meet. He played for years in the Sunday band of a local African American church, and I could feel that his heart had been tuned by that experience. He and Maya were living in the Artist Lofts apartments here in Mount Rainier and agreed to perform as part of the Community Supported Music series I was organizing. Tyler was also working on arranging music for a Kennedy Center show about Marvin Gaye. He and I ended up playing a number of gigs together before they moved up to rural Connecticut to be near his parents and to raise their son, Cedar, who recently turned one year old. As the New England music scene emerges from the pandemic, I know he's going to be all over it. I can't wait to go up and check it out (and meet Cedar).
Viceversa
Mario Benedetti
Tengo miedo de verte
necesidad de verte
esperanza de verte
desazones de verte

tengo ganas de hallarte
preocupación de hallarte
certidumbre de hallarte
pobres dudas de hallarte

tengo urgencia de oírte
alegría de oírte
buena suerte de oírte
y temores de oírte

o sea
resumiendo
estoy jodido
y radiante
quizá más lo primero
que lo segundo
y también
viceversa.
Translation:
I'm scared to see you
I need to see you
I hope to see you
I'm anxious to see you
I want to find you
I'm worried to find you
sure to find you
a bit uncertain to find you
I'm in a hurry to hear you
overjoyed to hear you
lucky to hear you
and dread to hear you
In other words
in short
I'm screwed
and beaming
maybe more the former
than the latter
and also
vice versa.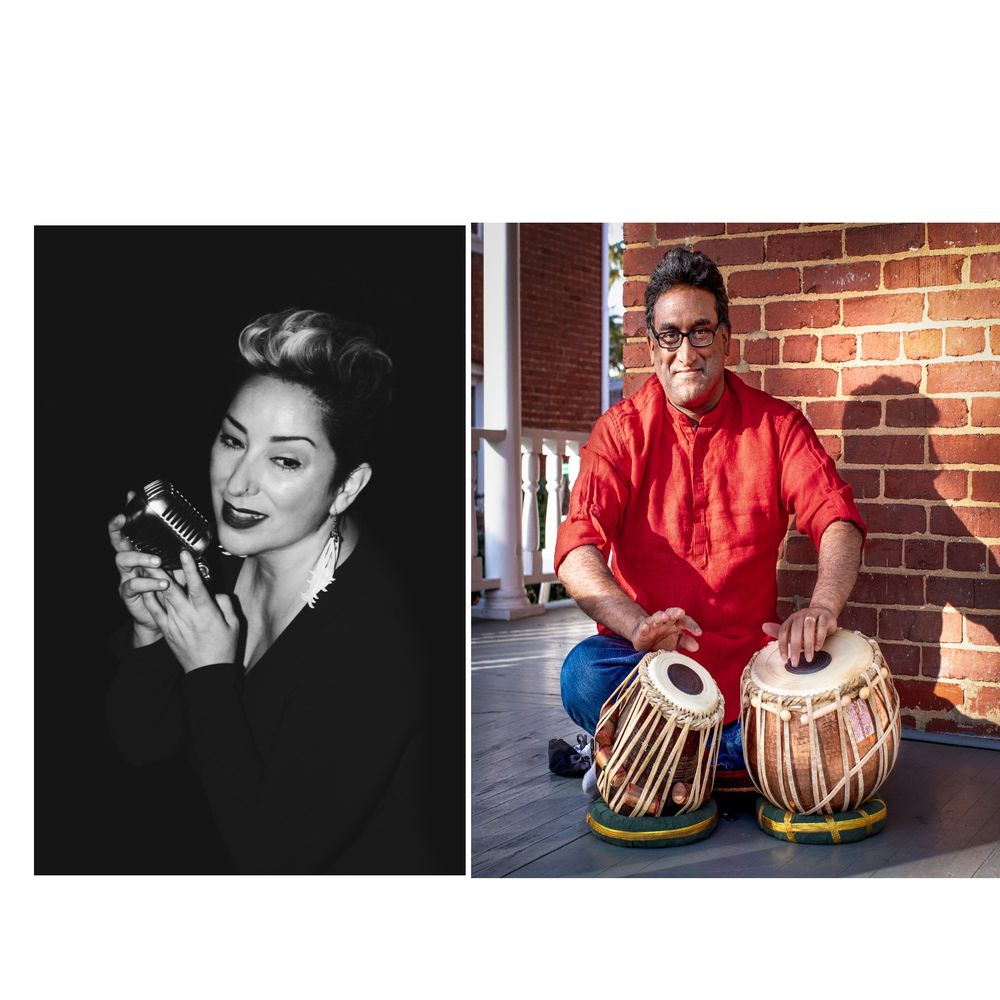 Track #5: "Asa branca"
Elin Melgarejo: vocals; Deep Shenoy: tabla
"Asa branca" is the album's only "cover song." But it is so much part of the popular culture of Northeast Brazil that I thought it qualified. It has even been called the unofficial "national anthem" of the Nordeste. Written in 1947 by Luiz Gonzaga, with lyrics by Humberto Teixeira, it tells the story of the great droughts that forced many natives of the northeastern sertão ("badlands") to migrate to Rio de Janeiro, São Paulo, and other industrial cities of the Brazilian South, an experience analogous to that of Dust Bowl "Okies" forced by drought to migrate to California during the Great Depression. It's a song of nostalgia for the place one belongs. The "asa branca" ("white wing") is a small bird native to and deeply associated with the sertão region. At the end of the song, when the singer sees that the drought has forced even the asa branca to leave, he knows it is time to go. (I post the Portuguese lyrics, with my translation, below.)
Since being made famous by Gonzaga ("The King of Baião"), it has been covered by many of the best-known Brazilian singers--Gilberto Gil, to cite just one example. But I'm not sure anyone has recorded it quite like us. I reharmonized the melody slightly and added a solo section. But the main innovation occurred when my friend Deep Shenoy came to sit in with us at a rehearsal and started playing an Indian taal on his tabla. He somehow made it fit perfectly with the Northeastern baião groove. We decided right away that he had to be on the track and we had to give him a solo. This is another of my favorite moments on the album.
Giving the track a bit more traditional grounding is the triangle part played by Brazilian percussion master Bruno Lucini. Triangle and accordion are the two instruments you find in most traditional baião groups.
Providing the haunting vocal on this track is Elin Melgarejo, one of the finest vocalists on DC's Brazilian music scene. A former collaborator with the group Thievery Corporation, she has made MPB (música popular brasileira) her specialty and has many years of experience performing and recording it. She contributed some great ideas for the arrangement and let us know when we didn't quite have it right, and when we did. There's no way this could have been created without her.
Asa branca
Luiz Gonzaga/Humberto Teixeira
Quando olhei a terra ardendo
Qual fogueira de São João
Eu perguntei a Deus do céu, ai
Por que tamanha judiação
Que braseiro, que fornalha
Nem um pé de plantação
Por falta d'água perdi meu gado
Morreu de sede meu alazão
Até mesmo a asa branca
Bateu asas do sertão
Então eu disse, adeus Rosinha
Guarda contigo meu coração
Quando o verde dos teus olhos
Se espalhar na plantação
Eu te asseguro, não chores não, viu
Que eu voltarei, viu, meu coração
Hoje longe muitas léguas
Numa triste solidão
Espero a chuva cair de novo
Para eu voltar pro meu sertão
Quando o verde dos seus olhos
Se espalha na plantação
Eu te asseguro, não chores não, viu
Que eu voltarei, viu, meu coração
------------------
When I saw the land burning
Like a Saint John's [Midsummer's] bonfire
I asked God in heaven, Lord,
What have we done to deserve your fury?
What an oven, what a furnace
None of my crops left standing
For want of water, I lost my cattle
And my horse died of thirst
When even the asa branca
With a beat of its wings flew from the sertão
That's when I said, farewell Rosinha
I leave my heart with you
When the fields once more
Are as green as your eyes
I promise you, please don't cry,
I will return, my love
Today many distant miles away
In my sad solitude
I wait for the rain to fall again
So I can return to my sertão
When the fields once more
Are as green as your eyes
I promise you, please don't cry,
I will return, my love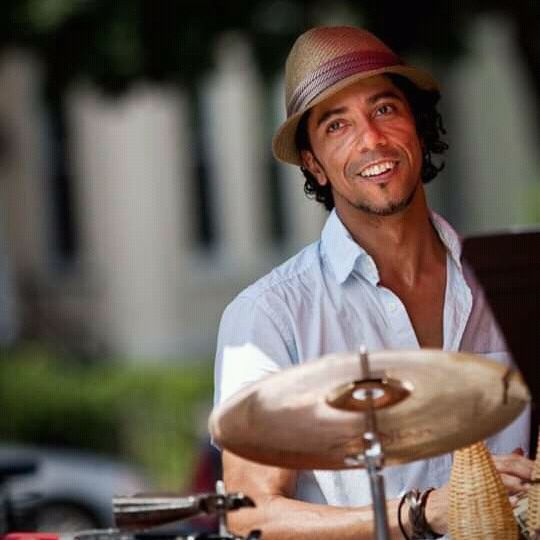 Track #6: "Triângulo"
Bruno Lucini: triangle
"Triângulo" is in part a "reply" to "Asa Branca." I wrote this piece trying to root it in the same Northeast Brazilian tradition. The title refers to the iconic instrument of música nordestina, the triangle. If you've got folks to play a triangle, a sanfonia (Brazilian accordion), and maybe a pandeiro (Brazilian tambourine on steroids), you have everything you need to produce authentic-sounding forró and baião. Except of course, the groove, of which more below.
The inspiration for this piece was my wife's acquisition of her very own triângulo. Leslie Brice is a very musically adventurous person, who plays piano, mandolin, melodica, flute, and more percussion instruments than I can count. During the "before" (COVID) times, she regularly rehearsed with Vavá Bateria, a DC escola de samba (samba school, or percussion orchestra of the type featured in parades at Carnaval) that performs in street parades, festivals, and Latin music clubs around the area. I wanted to write something that would feature her instrument and that we could play together.
Playing the triângulo on this track is Bruno Lucini. Bruno is one of DC's most sought-after percussionists and the brother of Leo and Alejandro Lucini, with whom I recorded my first CD, Nostalgia for Terra Incognita (2007). The three Lucini brothers grew up in Rio, but they've lived in DC for decades and are pillars of the Brazilian and Latin jazz scene here. I've played a lot of gigs with Bruno over the years. He's one of my favorite people. That smile is genuine and warm as the sun on Copacabana beach, if sometimes a bit wistful and often punctuating self-deprecating humor. He's a great musician, knowing just what to add and what to leave out. He is the percussion section in Lynn Véronneau's band.
Elin Melgarejo provides a perfect vocalese doubling of the melody, reminiscent of Flora Purim (or Lena Seikaly on the aforementioned Nostalgia album). When I play a melody, I always aspire to make it "sing" like a great singer does. It's so nice when I actually have one to help me out!
Musicians, especially drummers and percussionists, listening to Folk Songs, Jazz Journeys may have noticed a rhythmic undercurrent that flows through many of these tracks. Without getting too technical, or pretending to be an ethnomusicologist, it's the long-short, long-short pulse. The first note falls on the downbeat, the second on an offbeat. This rhythm, which has roots in West Africa, is characteristic of much music in the Atlantic world. You can hear it in the bass line of "Postal de Bata" (and a great deal of West African music), "Asa Branca" and "Triângulo" ("baiao" being Brazilian for "from Bahia," the Brazilian state geographically and culturally closest to Africa), and even, slightly modified, in "Rue des Ursulines" (a composition inspired by the second-line groove of New Orleans brass bands). If you take this long-short, long-short idea up to the melody instruments, you start to get the swing feel of North American jazz, or an Irish hornpipe, or a Breton laridé. For me, this is the beating heart of Folk Songs, Jazz Journeys, sending out musical oxygen that originated in West Africa and now sustains music throughout its diaspora and all of us who inhabit continents on Atlantic shores.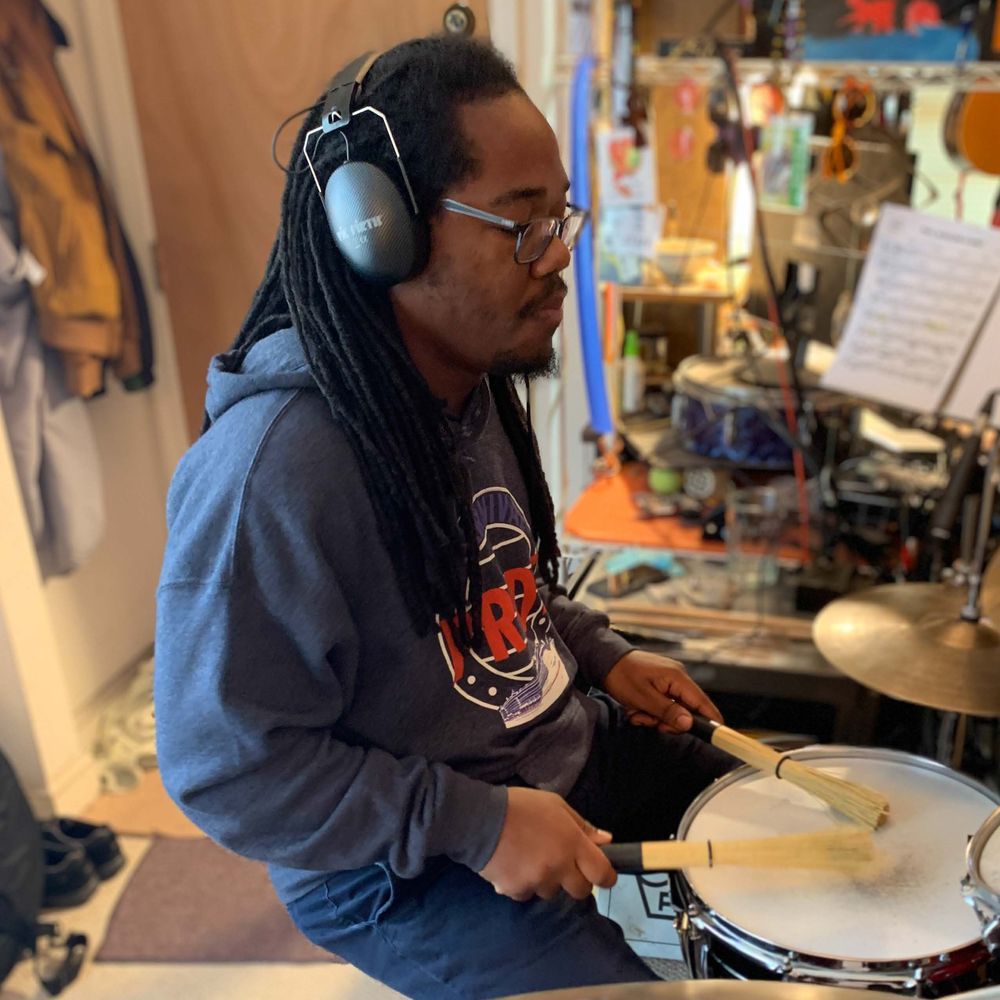 Track #7: "Rue des Ursulines"
Keith Butler Jr.: drums
"Rue des Ursulines" is a New Orleans second-line jam for the trio and features great solos by both Ethan and Keith. It's named for a street in the Vieux Carré (French Quarter) that my wife and I walked a lot during a visit some years ago to a French friend who has made her home there for decades. New Orleans is of course one of the most vibrant crossroads in the musical journey this album is taking.
Our featured musician, Keith Butler Jr., could be the featured artist on every song on this album, because he's the only person besides me who is on every track, and he contributes so many deep grooves and sparkling solos. Like Ethan Foote and Tyler Sherman, he's also a composer and arranger now studying in the composition program at the Vermont College of Fine Arts. You can hear some of his composing on Greener Grasses, the album he put out with his own trio a couple of years ago.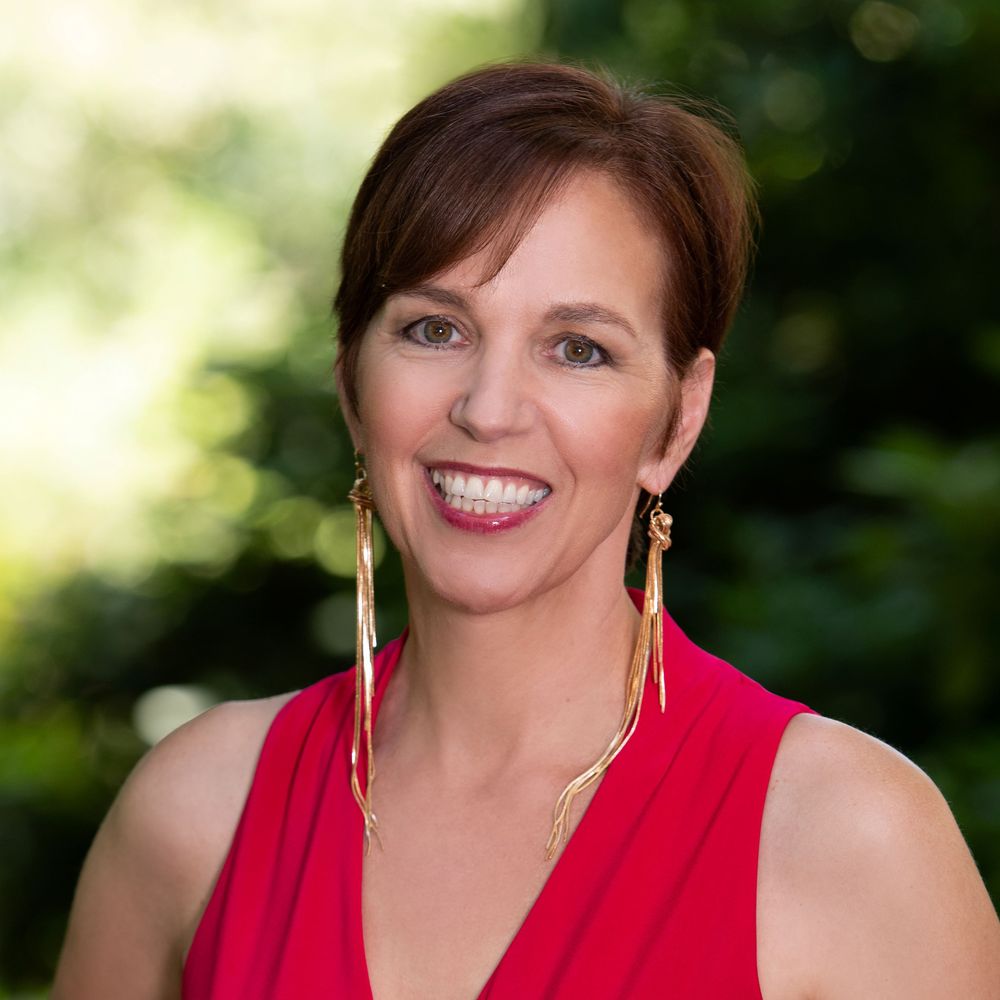 Track #8: "Le temps des cerises"
Lynn Véronneau: vocal
"Le temps des cerises [The time of cherries]" is a 19th-century French song associated with the Paris Commune, 71 days in 1871 when the people of Paris took over their city from a far-right monarchist government and established a people's democracy. The Commune's leaders included feminists like Louise Michel. It was crushed by the reactionary government with the help of the Prussians (to whom that government had capitulated in the War of 1870), and during the "Semaine sanglante" (Bloody week) of May 21-28 tens of thousands of Parisians were executed or simply butchered by the army. The song has thus come to commemorate a moment of both great hope and tragedy, in lyrics about young lovers and cherries emerging under the leaves "like drops of blood." The song is still sung as an anthem of resistance at times when French people need it. This included my grandparents, two young people from the provinces who met and fell in love in Paris during the Nazi Occupation. I learned of the song from my grandmother, as part of the stories of how much she missed my grandfather, who died several years before I was born.
Bringing my arrangement of this song to life in our recording is the French Canadian jazz singer Lynn Véronneau. When my sister and brother-in-law, who love French music, received their copy of the CD, my sister asked me if this was really "la Véronneau." How did I get her on my record? For lovers of French music like them, Lynn is a household name as a modern interpreter of chanson. Her versions of classics like Charles Trenet's "La mer" are big hits on YouTube and Spotify. I have the great good fortune that she lives in the DC area and that I had a connection to her through my friend Bruno Lucini, the percussionist in Véronneau, the band she leads with her husband, the guitarist and vocalist Ken Avis. She is a decidedly unpretentious and generous person, in that way still very Canadian, even though she lived in France for many years. Working with her was a joy. We did about four takes, each getting just a little bluesier and more soulful, until we all knew that we had it. Ça y est.
Le temps des cerises
lyric by Jean-Baptiste Clément
music by Antoine Renard

Quand nous chanterons le temps des cerises,
Le gai rossignol, le merle moqueur
Seront tous en fête !
Les belles auront la folie en tête
Et les amoureux du soleil au coeur !
Quand nous chanterons le temps des cerises,
Sifflera bien mieux le merle moqueur !

Mais il est bien court, le temps des cerises,
Où l'on s'en va deux, cueillir en rêvant
Des pendants d'oreilles...
Cerises d'amour aux robes pareilles,
Tombant sous la feuille en gouttes de sang...
Mais il est bien court, le temps des cerises,
Pendants de corail qu'on cueille en rêvant !

Quand vous en serez au temps des cerises,
Si vous avez peur des chagrins d'amour,
Évitez les belles.
Moi qui ne crains pas les peines cruelles,
Je ne vivrai point sans souffrir un jour...
Quand vous en serez au temps des cerises,
Vous aurez aussi des peines d'amour !

J'aimerai toujours le temps des cerises,
C'est de ce temps-là que je garde au coeur
Une plaie ouverte...
Et dame Fortune en m'étant offerte
Ne pourra jamais fermer ma douleur...
J'aimerai toujours le temps des cerises
Et le souvenir que je garde au coeur !
The Time of Cherries
When we sing about the time of cherries,
The happy nightingale and the mockingbird
Will all be celebrating!
The belles will throw care to the wind
And their beaux will have sunshine in their hearts!
When we sing about the time of cherries,
The mockingbird will be singing his best!
But the time of cherries is so short,
When we go hand in hand, dreamily picking
Flower earrings…
Cherries of love in such dress
Falling under the leaves in drops of blood…
But the time of cherries is so short,
These coral earrings that we pick daydreaming!
When you find yourself in the time of cherries,
If you fear the heartbreaks of love,
Stay away from beautiful women.
As for me, not being afraid of cruel pain,
I will not live without suffering someday…
When you find yourself in the time of cherries,
Your heart will also be broken!
I will always love the time of cherries,
Of this season I keep in my heart,
An open wound…
And Lady Fate, in offering herself to me
Can never end my pain…
I will always love the time of cherries,
And the memory that I keep in my heart!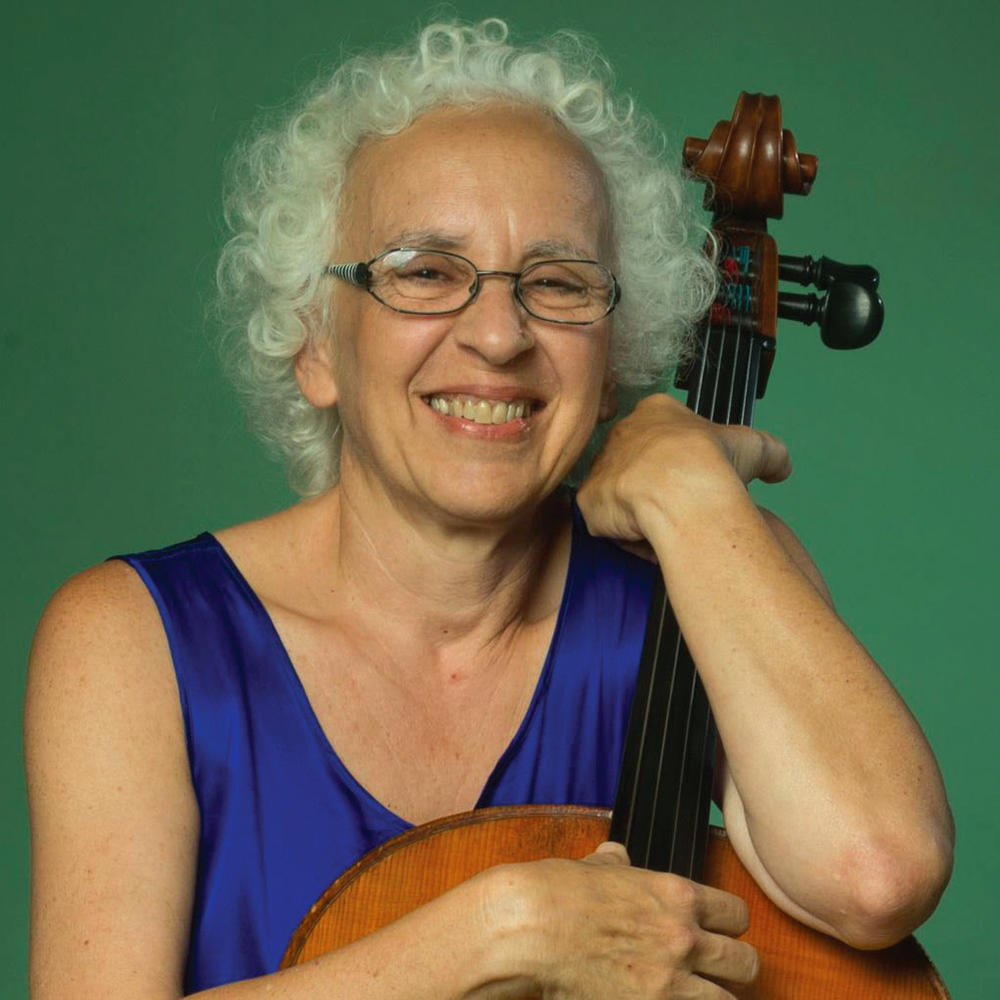 Track #9: "I Once Loved a Lass"
Jodi Beder: cello
"I Once Loved a Lass" is my instrumental arrangement of a Scottish ballad that I heard over and over as a child on a compilation LP of folk songs in my mom's record collection. I've been playing the song and tinkering with it for almost as a long as I've been playing guitar. I also intended it here as a tribute to the Scotch-Irish ancestors very thick in my father's family tree.
Last month a friend clued me in to another resonance behind this melody. In 1963, following the Birmingham church bombings that took the lives of four young girls, Joan Baez's brother-in-law, singer-songwriter Richard Fariña, wrote new lyrics for it, titled "Birmingham Sunday." This song, which Baez included on one of her albums, says the names and tells the stories in turn of each of the four girls murdered by the Klan bombers. In 2017, Rhiannon Giddens recorded a particularly moving version on her album Freedom Highway.
I decided to make this song a feature for the cellist Jodi Beder, a friend and neighbor with musical tastes at least as eclectic as mine. In addition to having performed classical and New Music with orchestras and chamber groups for decades, she accompanies poets (like my father, Mike Martin) in performances of spoken word + cello. She has been a member of the pan-folk Dovetail Ensemble--which juxtaposed klezmer and Celtic music with Swedish and Cajun fiddle--as well as the "cabaret rock" band Zen for Primates (on Zelda, the electric cello). (For those of you unfortunate enough to never have experienced it, this is their version of Led Zeppelin's "Whole Lotta Love"). During the pandemic she has become renowned locally (through writeups in the Washington Post, etc.) for solo concerts on her porch before a socially distanced audience on her sidewalk, across the street, or around the world on Facebook Live. She is a uniquely versatile, adventurous, and sensitive musician, always a pleasure and an honor to create with. I love what she does with this song.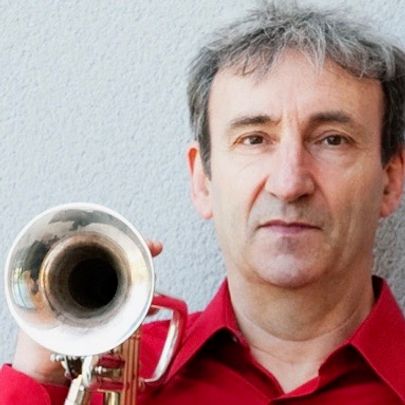 Track #10: "Laridé"
Gaby Kerdoncuff: trumpet
"Laridé" is our arrangement of a Breton dance in 6/4. Brittany, an independent country until the 15th century, has been a province or region of France since then, and retains a Celtic culture quite distinct from the rest of the République. In many respects, in its landscapes (green interiors, rocky coasts), its folkways, and its traditional music, Brittany more resembles Ireland, Wales, or even New England than Paris or Lyon. It is also the place where I was born, and where my mother still lives, in a town where she spent much of her childhood. When we go for walks in its forests or drive along its old craggy mountains, my family and I, who have lived in both Appalachia and Brittany, marvel at how much they resemble each other. They share much of the same geology and plant life. This is likely because millennia ago, before the ancient continent of Pangea split apart, the Blue Ridge and Brittany's Monts d'Arrée were part of the same mountain range. My two countries were once one.
In Brittany's hamlets, fishing villages, and on its farms, after a hard week of work, dances like the laridé, kas a barc'h, kost ar c'hoat, and an dro are traditionally danced as part of festou noz (literally, "night parties"), although these days folks are more likely to gather to dance in a community center than in a barnyard. As you may have guessed, these terms are not from French but from Brittany's Celtic language, a close cousin of Welsh, which is spoken less and less these days but remains central to Breton identity through place names and songs.
Nostalgia for the old country aside, what we offer on this album is not your "laridé da dad kozh" (your grandpa's laridé). Bassist Ethan Foote, drummer Keith Butler Jr., and I decided to infuse this Breton traditional dance with a bit of go-go, the native rhythm of the city we now call home, Washington, DC. Pangea drifts back together for 6 minutes and 18 seconds in the 21st century.
One of the great blessings of the Folk Songs project is that my old friend Gaby Kerdoncuff agreed to join us on this track, contributing a trumpet solo he recorded in a studio near his home in the Trégor region along Brittany's north coast (a couple dozen kilometers from the farm where my great-grandfather was born). Gaby, who grew up in a small town near Brest, is one of the best-known players of wind instruments on the Breton music scene. Although trumpet is what he plays the most these days, he also performs on biniou (the Breton bagpipe) and bombarde (a reed instrument that sounds kind of like a bagpipe chanter without the bag). He has made his career exploring the affinities of Breton music with that of the Balkans (especially Rumanian Gypsies) and the Middle East. He also has studied his Clifford Brown and Miles Davis, as you'll hear in his solo on our laridé.